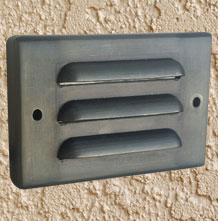 SD 400 S CB LED
LED -
Made in USA
LED Source:
CREE X Series LED (Dimmable)
Wattage:
5 watts  (= 35w T3 halogen)
Lumens:
285 lumens
Color Temp.:
2700K (Halogen Warm White)
CRI:
82 Typically
Input Voltage:
11v to 14v Vac
IP61 Moisture Resistant:
Fully Potted PC board
Overload Protection:
Built in monitor w/ auto-dimming
LED Rated Life:
50,000 Hours
Warranty:
Limited 5 years against failure
Fixture :
Assembled in USA
Material:
Cast Brass 3 louver design
Beam Spread:
160º - 3ft radius from center
Screw Holes:
3 7/8" hole to hole on center
Lens:
Clear tempered glass cover
Finish:
Aged Bronze - naturally oxidized
Fixture Seal:
IP67 rating
Lead:
2 ft. of 18/2 wire w/compression nut
Warranty:
Limited Lifetime on fixture and finish
Rating:
Harsh coastal rated
Beam Spread:
160º - 3ft radius from center
Illuminates the entire step for total of 6ft = 3 ft
each side and 3ft. directly in front with 285 lm.